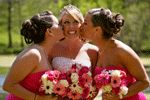 Naming Your Maid Of Honor
While you want to make sure you don't offend anyone, you also want to make sure you choose someone who will be there to support you from the beginning to the end.
Jumping the Gun
One of the biggest mistakes you can make is to offer someone the starring role ten minutes after your boyfriend proposed. Let the reality of your engagement sink in before you ask anyone to be involved in the wedding. You don't want to make a choice you will come to regret later on.
Know the Role
When you're ready to ask someone, go over exactly what you will expect of them before you assume they will jump at the chance to accept the responsibility. The maid of honor generally helps you choose your dress, helps plan the bridal shower and bachelorette party, and keeps you from going off the deep end during the entire wedding planning process. Despite the title, she's not actually your maid, and you need think about how much you're asking of her and decide if she can handle the demands of the role you are about to offer. Not many friends would decline a proposal to be maid of honor, but that also means that someone might accept out of a feeling of obligation. Talk to her in private, and let her know you'll completely understand if she has to decline.
A Tale of Two Friends
If you have two friends who you're equally close to, and can't decide which one to ask, consider having two honor attendants. If you are lucky enough, maybe one is married and one is single; that way, you can have a Matron of Honor and a Maid of Honor and no one gets their feelings hurt. On the other hand, you may have two close friends with an obvious choice as to who would be the better maid of honor. Say, for example, your childhood best friend, who you have been close with since the first grade and have kept in touch with all throughout college, is somewhat of a "free spirit" who is a little unorganized, hops from job to job and is likely to live in a new city every six months. Then you have your old college roommate, who you've also kept in touch with since graduation, who is stable, responsible and extremely organized. The choice is clear, but to avoid a ruined friendship, make sure to ask your runner-up if she would like to be a part of the wedding in another way, such as making a toast or signing the marriage certificate. And by the way, whatever you do, never actually refer to that friend as the runner-up!
An Ounce of Prevention
Also keep in mind that it is very hard to "dismiss" your maid of honor if things aren't going well. If you find she's having difficulty, seems to be missing in action most of the time, or has just become plain apathetic about your wedding, find some time to talk to her one-on-one to see what is going on. She may be going through something major in her life that you were unaware of. During the understandably, self-centered period of wedding planning, you may have forgotten that you still need to be her friend first and foremost. If she can no longer handle the role she has accepted, ask her if she'd like to bow out. She can still be a bridesmaid or take part in a way that won't be a burden. Just don't be offended is she accepts your proposition - it's better to keep perspective and save a relationship than to look back years down the road and regret a ruined friendship.